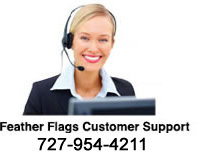 Find out what others are saying about us online
CLICK HERE
Feather Flags
Home
>
DuraBalloons
> Duraballoon Stem & Cup (minimum Order 2)
Duraballoon Stem & Cup (minimum Order 2)
Designed to endlessly wave your balloons back and forth in the breeze.

This unique flexible fiberglass stem is designed with a special internal weave for strength and outdoor longevity. An outer veil coating prevents any possibility of weathering or splintering.

These tough 41" x ¼" stems can be bent from tip to tail without breaking. The stem easily twist-locks on to the mounting device and includes a security screw to set it in place preventing the possibility of theft. A turnkey at the top screws securely onto your DuraBalloon.

A clear upper cup is included to hold and stabilize your DuraBalloon.

Please note: because we only ship this item through UPS, there is a minimum order quantity of 2 stems if it is the only item that you order.

Any orders received for just one stem only will be cancelled and refunded because the amount of shipping collected by our website will not be enough to cover the actual shipping cost.

Thank you for your understanding.