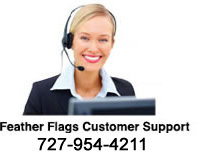 Feather Flags
Home
> Custom Flags
Custom Flags
Draw attention easily with a Giant Custom Flag! Our Feather and Tear-Drop flags measure approximately 2.5 feet wide x 12 feet high when installed on the pole. Our Swooper flags measure approximately 2.5 feet wide x 15 feet high when installed on the pole. All custom flags can be ordered as either Single-Sided or Double-Sided (more information below). All custom flags are made of the finest quality material and are 3 times the thickness of our stock flags! Fill out the form below and submit your artwork if applicable and our Art-Dapartment will design a proof for you usually within 1-business day. Normal delivery time is 10 days after approved proof. Order yours today!

Any artwork uploaded must be high resolution in either a PDF, AI (Adobe Illustrator), or EPS file formats.
Template Downloads: Double Feather Flag - Double Swooper - Teardrop Flag
Complete single sided kits $145
Complete double sided kits $175
Single sided flag only $90
Double sided flag only $129
A SINGLE-SIDED flag has the dye applied to one side which soaks through the flag-
The result is a flag with the message visible from both sides, but one side reads correctly and the other side reads reverse
(a mirror image)

A DOUBLE-SIDED flag is actually 2 separate flags that are printed oppositely and then sewn back-to-back.
This results is a flag that reads correctly from both sides. There is also a blackout material sewn in-between
to prevent bleed through.
Place your order above as follows:
1.) Select the flag style you want: Feather, Swooper, or Teardrop (Feather is by far the most popular)
2.) Choose whether you would like a double-sided flag or a single-sided flag.
3.) Enter the number of flags you wish to order.
4.) Enter the color you want your flag to be. If you have a pantone color number you can just enter the number.

5.) Enter the text or wording that you require on your flag.
6.) Enter the color that you want the words to be.
7.) Upload your artwork or logo. You can also email it to segotammy@gmail.com
8.) Enter the number of flagpoles required (should be the same as the number of flags you order)
9.) Choose a mounting option: Ground-spike for grass or dirt, Water-base for concrete or hard surface, Wheel base when using cars tire to support flag.
10.) Enter the number of mounting-bases you wish to order.
11.) Add to cart and check-out.
A representative will follow up by contacting you.