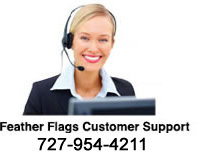 Find out what others are saying about us online
CLICK HERE
Feather Flags
Home
> About Us
About Feather Flags .com
Welcome to Feather Flags!
In business since 1994 and proudly selling only high quality products at great competitive prices.
As owners we take pride in our business while providing exceptional service and customer support for all your needs.
We are a drop ship company using fulfillment centers located strategically across America.
We are distributors for TOP PRODUCT LINES INCLUDING EZ LETTERING , NABCO, VERSA-TAG & ASP... JUST TO NAME A FEW.
Now, 25 years later, we own 2 additional online stores, have an Ebay store and have recently established a new store on Amazon.
Shop our other online stores listed below to see new products and sales promotions
Auto Dealer Supplies store at www.AutoDealerSupplies.com/
Discount Flag Outlet store at DiscountFlagOutlet.com/ .
And don't forget to check out our Ebay store at www.carlotsupply.com/ with over 99% positive feedback!
And our new Amazon store at www.AutoDealerSupplies.com/
Contact Us if you have any questions by phone at 1- 727- 954 - 4211 or email us
Thanks for visiting us.
Jim & Tammy Sego